4 Smart & Easy Ways to HACK Your Google Shopping Campaigns and Improve Success
4 Smart & Easy Ways to HACK Your Google Shopping Campaigns and Improve Success
The future of retail search marketing has moved on from what was once the more reliable text-based Search Ads and found its home in Google Shopping Ads. And no wonder.
According to the statistics dropped by Fredrik Lindros (CEO of Speqta) at the latest Redeye SaaS Seminar, Shopping Ads earn the large majority (65%, to be exact) of all clicks on Google Ads — a big deal, considering the fact that Google owns 72% of the Search Ads market (beating out both Amazon and Bing).
Shopping Ads are the name of the game these days, and everyone is hopping on board.
After all, when compared to paid text-based search ads, it's a heck of a lot better at driving traffic to your website that actually converts. Possible with the right data and the correct strategies to make use of said data. But, of course, that's easier said than done — even for the world's greatest data scientists.
Below, we introduce four smart 'hacks' that you can use to improve the success rate of your Google Shopping Ads:
Introduction | Performance Marketing
In the past couple of years, the way retailers thought about marketing was based on a capped budget — with the main goal being to boost sales and enhance brand loyalty.
Suffice to say, the old model had been based more on trial-and-error than anything else and was vastly immeasurable when compared to what we can do now. With modern technology, data-driven marketing is made possible, and its benefits are endless.
Not only does it make marketing more transparent than ever but now, retailers can maximize their current budget to lower their CPAs (Cost Per Acquisition) in a measurable way. In other words, you can set an "unlimited roof for growth" (as Fredrik Lindros once stated in an interview on Performance Marketing) with the data that you have available.
4 Tips to Hack Your Google Shopping Campaigns
The success of your Shopping Ads is dependent on how best you are able to make use of the data that you have at your fingertips. For today, we'll be teaching you where and how you can access this information while managing your campaigns on Google Ads:
1. Predefined Reports Page (formerly 'Dimensions')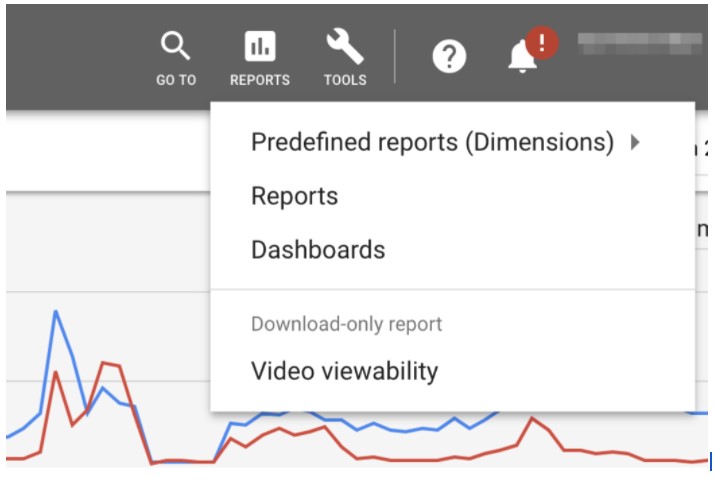 The first area of focus that you need to pay attention to is the 'Predefined Reports' page (which was formerly called the 'Dimensions' page. This page houses a dashboard where you can access customized performance reports at various levels of granularity and at an array of different dimensions to choose from (category, product type, item ID, brand, Merchant Center ID, or store ID.)
Basically, this is the place to be to see how your campaigns are faring and what changes need to be made to improve them. For example, you can select the 'Time' view to determine at which hours of the day, week, etc. your campaign's conversion rates are performing higher and lower — enabling you to modify your bid placements to target the highest-performing hours.
2. Sort Performance Data by Item ID
If you want to see how individual products are performing (rather than aggregated campaign metrics), don't forget that you can choose the attribute by which to view your data — with one of the options being to sort by Item ID.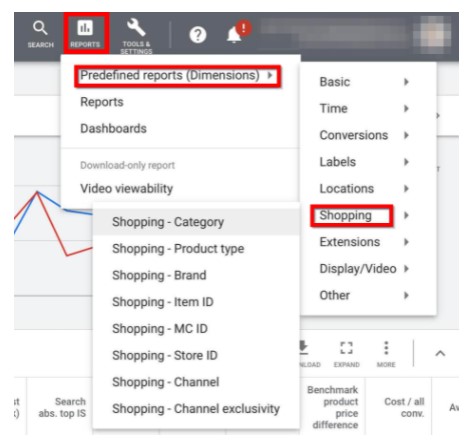 This option will allow you to see the individual KPIs for each item that you are selling. This is particularly useful for segmenting your product groups in a way that will allow you to boost your sales with increased bids on high-performing products and decrease your CoS (Cost of Sales) by bidding less on lower-performing products.
3. Use Search Terms Report for Optimizing Negative Keywords
Unlike Search Ads, you cannot choose the exact keywords for which your advertisements will appear with Shopping Ads. Instead, it's Google's algorithms that get to decide (based on the data that you input into your product feed).
What Shopping Ads do allow, however, are negative keywords — which allow you to choose what search terms your ads do not appear for. Suffice to say this is a function that you have to utilize ASAP to make sure that you are maximizing your budget to encourage the most growth.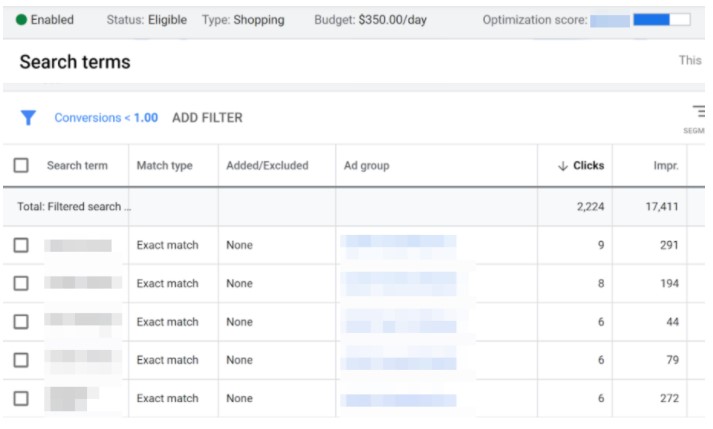 To do this, you can use the Search Terms option available on your account to find out which search terms are keepers and which ones are to be added to your negative keywords list.
4. View Device Reports
Shopping Ads are booming on mobile, what with the fancy interactable scrollable carousel that takes up a prominent portion of most smartphone screens.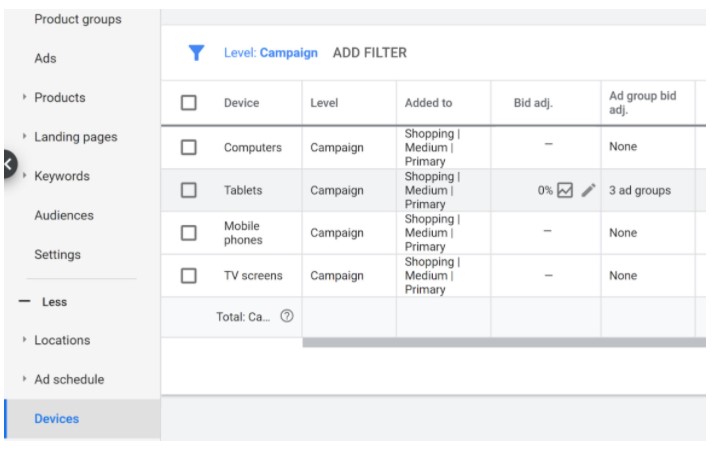 And, thankfully, you can see the performance metrics of your campaigns based on device types as well to take full advantage of this fact. This feature not only gives you insights on your target audience, but it also gives you another way of optimizing your current bidding strategy to drive conversions based on the device being used.
The Secret to Google Shopping Success
It's data. It's measurable performance. That's the secret. Or so is stated by Fredrik Lindros in his presentation at the aforementioned Redeye SaaS Seminar: "the winners in this battle are the ones that can use all their data to determine when best to bid high or low."
It's tough, yes. Especially if you decide to go at it manually—which, according to Fredrik—will require an in-house department of professional data scientists. But it's necessary.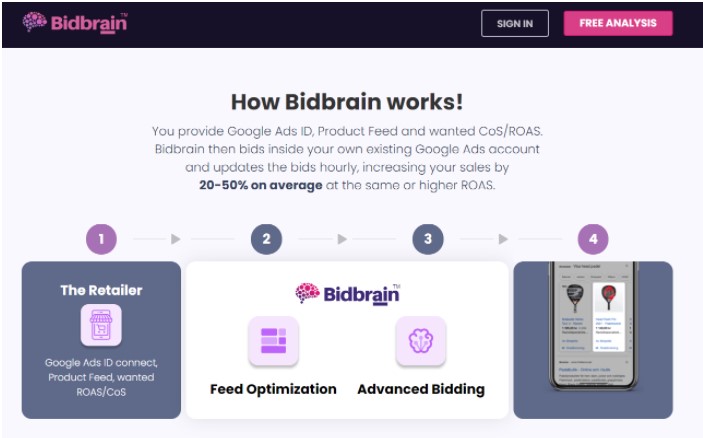 And, of course, if that level of manual effort is just not something you can pull off (or if you just want to get an edge over your competitors with the help of Artificial Intelligence), there are plenty of tools out there that can help you out. Fredrik even introduces one in his presentation — Speqta's newest SaaS tool, Bidbrain

— that was developed to work entirely with Google Ads and do it well. So well that, according to their latest Bidbrain case studies, their clients are seeing as high as a +138% increase in sales at a reduced CoS of -21%!
The post 4 Smart & Easy Ways to HACK Your Google Shopping Campaigns and Improve Success first appeared on Tekrati and is written by jerome