The longtime governor of New York, Andrew Cuomo, has gone from one of the most admired members of the Democratic party, to a pariah whose own colleagues want removed from office.
After the state's top investigator determined that he illegally harassed multiple female co-workers, including state employees, party allies including his old friend Joe Biden called on him to resign.
Mr Cuomo denies the allegations, and has blamed the complaints on cultural and generational misunderstandings.
The fall comes after his public profile reached dizzying heights in the early days of the pandemic, as millions of Americans tuned in daily to his no-nonsense TV briefings.
Who is Andrew Cuomo?
He is part of a Democratic political dynasty – his late father was also governor and hugely popular within the party. Many urged him to run (twice) for president but he refused.
His brother Chris is a primetime CNN presenter and he has interviewed his brother several times. The latest investigation was not covered by the TV presenter on his Tuesday night show.
Why are there calls to resign?
The civil (rather than criminal) inquiry by New York Attorney General Letitia James determined that Mr Cuomo had harassed 11 women during his more than a decade-long career in office.
The probe began in 2020 after several women publicly accused the governor of sexual misconduct.
Investigators spent five months speaking to nearly 200 people, including staff members and some of those who made complaints against him. Tens of thousands of documents, texts and pictures were reviewed as part of the inquiry.
He is now facing a criminal probe in Albany, the New York state capital. County investigators in the state are also opening separate inquiries, in light of the bombshell report.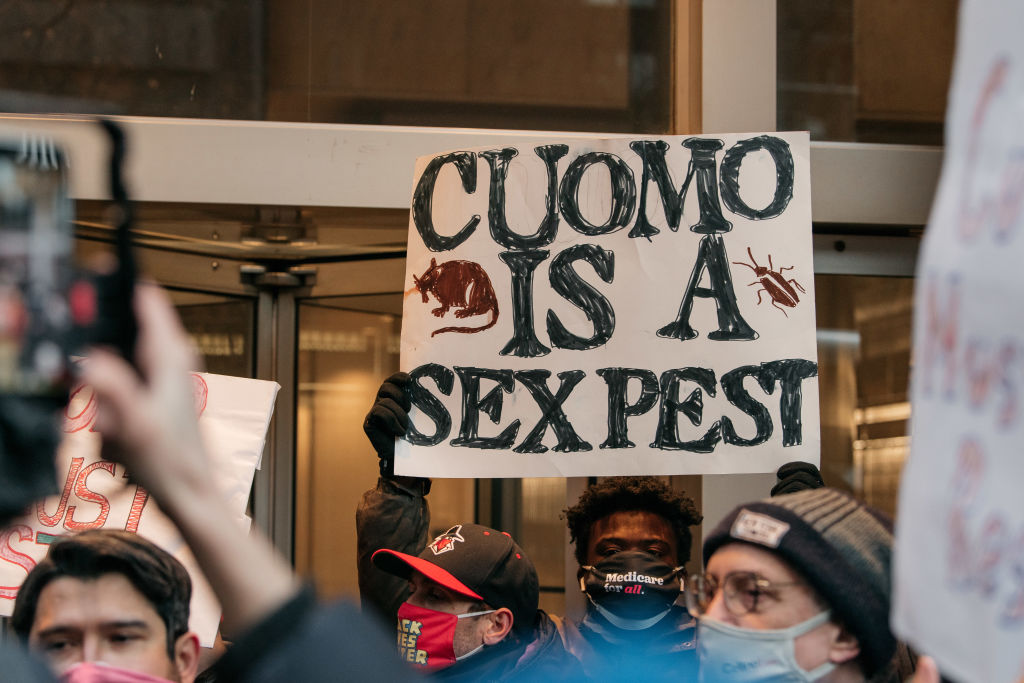 Getty Images
What do the women allege?
Eleven women have accused Governor Cuomo of misconduct.
Eight womensay he made offensive, condescending or sexual comments

Seven womensay he inappropriately touched or groped them at least once

Four womenallege he kissed them without consent
New York Attorney General report
Lawmakers in the Democratic-controlled State Assembly are also attempting to remove him from office through impeachment.
To be removed, he would need to be voted out by a majority of the lower chamber, then convicted by two-thirds of the state Senate. Democrats hold overwhelming majorities in both chambers.
There is also a separate federal inquiry into whether Mr Cuomo's office deliberately undercounted the number of Covid deaths in care homes in the state.
What are the allegations?
In one case, Mr Cuomo and his staff retaliated against a former employee who accused him of wrongdoing, according to Ms James.
Other women described being groped, kissed or sitting on the governor's lap.
Mr Cuomo allegedly reached under the blouse of an assistant to touch her breast, while another aide said he asked her if she was open to sex with an older man.
The governor stood behind a state trooper in a lift, running his finger down her neck and saying "hey you", according to investigators.
In his statement, Mr Cuomo said: "I want you to know directly from me that I never touched anyone inappropriately or made inappropriate sexual advances.
"I am 63 years old. I have lived my entire adult life in public view. That is just not who I am. And that's not who I have ever been."
Several Cuomo accusers applauded the report's findings, and called for his swift removal.
"He has been an establishment political figure for so long and he rules by fear," former aide Charlotte Bennett told ABC News after the report was released, adding that he is a "danger".
His "victim-blaming" statement, she said, "insinuated that survivors of trauma and sexual assaults can't tell the difference between mentorship and leadership, and sexual harassment itself, which is not only insulting to me but every survivor who listened to him yesterday."