Belarus's main opposition leader says she took a "very difficult decision" to leave the country, after disputing an election result she claimed was rigged.
In a YouTube video, Svetlana Tikhanovskaya said she did it for her children as protests continued for a second night. One person has died.
A second video, apparently filmed when she was detained on Monday, has also been released.
She was "safe" now in Lithuania, the country's foreign minister said.
Poll results gave President Alexander Lukashenko 80% of the vote, but there have been numerous claims of fraud.
Violent clashes between police and protesters have broken out over the two nights since the election was held, and there have been numerous reports of police brutality.
On Tuesday evening, three BBC journalists, part of a filming crew in Minsk, said they were attacked by law enforcement officials in black uniforms without insignia. They say two of the officials beat up the cameraman and tried to break the equipment. The reporters were not detained.
Mr Lukashenko, 65, who has ruled the former Soviet country since 1994, has described opposition supporters as "sheep" controlled from abroad.
But Ms Tikhanovskaya has galvanised the opposition, which presented a stronger than ever challenge to the autocratic leader. The 37-year-old is a former teacher who was a stay-at-home mother until she entered the race after her husband was arrested and blocked from registering for the vote.
When she attempted to register a complaint about the results – which gave her just 9.9% of the vote – on Monday, she was detained for seven hours.
What did Ms Tikhanovskaya say in the videos?
In an emotional video address to supporters (in Russian), Ms Tikhanovskaya said she had overestimated her own strength.
"I thought that this campaign had really steeled me and given me so much strength that I could cope with anything," she said.
"But I guess I'm still the same weak woman that I was."
She said her decision to leave was taken "completely independently" and not influenced by anyone around her, even though many people would "condemn" or "hate" her for it.
"Not one life is worth what is happening now," she added. "Children are the most important things in our lives."
Ms Tikhanovskaya sent her children to Lithuania for safety before the election.
Earlier Lithuanian Foreign Minister Linas Linkevicius tweeted about Ms Tikhanovskaya's whereabouts after rumours that she had disappeared.
There had been concern for her on Monday but her campaign later said she was "safe", without saying where.
Mr Linkevicius told the BBC: "The option to leave the country was found as the only rational [one], I understand."
He added: "It appears she visited the electoral committee, submitted a complaint… but she stayed. To [say] that she was visiting the electoral committee with a friendly visit would be too good. She was detained."
He later told a news conference that she had been given a one-year visa and a place to stay in Lithuania.
An associate of the opposition leader said she had been escorted from the country by the authorities as part of a deal to allow the release of her campaign manager, Maria Moroz, who was arrested on Friday evening. Mr Linkevicius confirmed that the two women left the country together.
A second video has now emerged which appears to have been taken during her detention. The images show her, head lowered, reading nervously from a script as she urges her supporters to "obey the law" and stay away from street protests.
Ms Tikhanovskaya's allies said the video – which has been published by state media – had been recorded under pressure.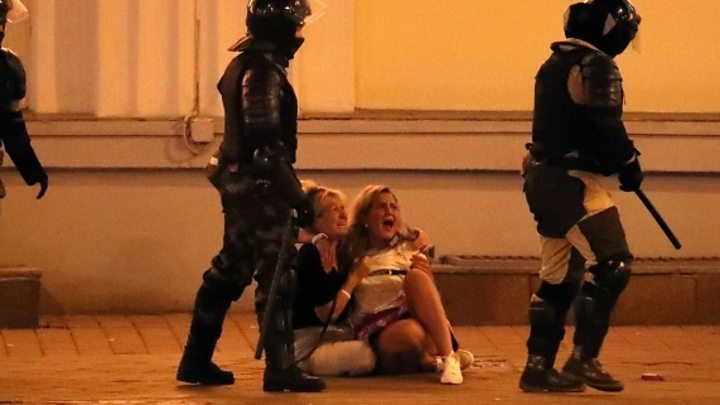 'Departure does not diminish her achievements'
Analysis by Tatsiana Melnichuk, BBC Russian, Minsk
Svetlana Tikhanovksaya is "a hero", according to opposition campaign partner Maria Kolesnikova, who says her departure does not diminish her achievements.
Activists and many others here are convinced she left under pressure from Belarus authorities. They all think Ms Tikhanovskaya was given a text to read under pressure.
After the 2010 election, state TV ran "confessions" from detained opposition activists that looked similar to what we saw on Tuesday. Many people I have spoken to in Minsk back Ms Tikhanovskaya all the way, saying she had no choice but to flee in order to protect her children, as her husband is in prison.
But others believe she should have realised what she was getting into and how dangerous this could be. No-one doubts her good intentions or her sincerity.
How big were the protests?
Protests in Minsk and other Belarusian cities broke out after the polls closed and continued on a large-scale on Monday.
Riot police fired rubber bullets, tear gas and stun grenades to disperse thousands of demonstrators rallying in the capital.
The brutality of the crackdown has shocked observers as many of these weapons had not been used in Belarus before the weekend.
Reports say some of the demonstrators fought back, throwing petrol bombs. Protesters also tried to build barricades.
Officials say one demonstrator died when an explosive device went off in his hands – the first confirmed fatality since the clashes began.
The internet, which was "significantly disrupted" on election day, continued to be mostly unavailable for a second day, according to online monitor NetBlocks.
What's the context?
In the last presidential election in 2015, Mr Lukashenko was declared winner with 83.5% of the vote. There were no serious challengers and election observers reported problems in the counting and tabulation of votes.
Anger towards Mr Lukashenko's government this time has been in part fuelled by its response to coronavirus.
The president has downplayed the outbreak, advising citizens to drink vodka and use saunas to fight the disease.
Belarus, which has a population of 9.5 million, has reported nearly 70,000 cases and almost 600 deaths.