By Anna Holligan
BBC News, The Hague
The Dutch army is cleared to help hospitals, intensive care units borrow beds from other wards, patients are sent to Germany for treatment, routine operations are postponed, a nationwide lockdown is in place – and still no vaccinations.
In a proudly well-organised country, with a well-funded health service, the first Dutch nationals will receive their coronavirus jabs on Wednesday – ten days after their European neighbours and nearly a month after the UK.
The Dutch government has come in for stinging criticism. One former public health director, Roel Coutinho, warned the country's "shameful" vaccination strategy was "going to cost lives".
During an emergency debate in parliament, opposition politicians called the approach "chaotic and confusing".
"Striking mismanagement by government," was the assessment of Tim, a doctor in general practice here. "We've almost had a year to plan ahead, arrange logistics and update software. But it's all coming down to the last moment."
"Embarrassing," lamented Arjen Joosse, a Dutch oncologist. "Too slow in preparation and wrong choices."
One of the main delays was caused by an IT system which needed to be upgraded to allow local health authorities to track appointments and check which vaccine each patient has received.
The systemic delays since the start of the pandemic are symptomatic of the Netherlands' bureaucratic health service, set up for efficiency but with many disparate elements making it inflexible.
Covid-19 has exposed it as sluggish when required to respond to rapidly shifting realities.
Tim, the Dutch GP (he declined to give his full name), told me: "We're lacking a crisis commander in what is essentially a war-like situation".
Alan Wouda, a 23-year old student, said the Dutch were "blinded by our nuchterheid (sobriety) – too stubborn to acknowledge we made mistakes".
Another student, Joelle Hibbel, asked "is it possible to be baffled and raging with anger at the same time?"
"That's how I feel about how the Dutch government is handling the pandemic in general and the vaccination process in particular."
What else went wrong?
The embattled health minister, Hugo de Jonge, said the Dutch were "prioritising safety", and suggested some countries like the UK had cut corners to start vaccinating sooner.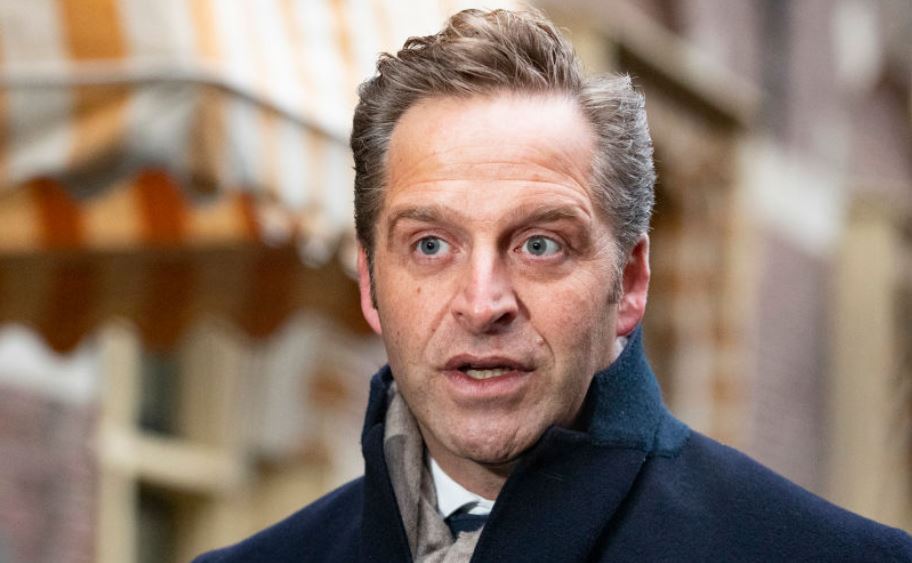 Getty Images
We have proven insufficiently agile to be able to accommodate the changes
The UK gave emergency approval to the Pfizer/BioNTech jab, but the EU's European Medicines Agency took longer to issue a conditional marketing authorisation.
Mr De Jonge initially defended the late start and dismissed criticism by saying "it's not a competition".
Mass vaccinations will be available in all 25 Dutch local health authority locations by 18 January.
The Netherlands assumed the Oxford/AstraZeneca vaccine would be ready for use first. Unlike the Pfizer one, it does not need to be stored at extremely low temperatures and so can be administered more easily by local medics.
But that meant the logistics were not in place to distribute the Pfizer/BioNTech drug when it arrived in the Netherlands on 27 December.
Mr De Jonge eventually conceded this week that he could have acted faster.
"We have proven insufficiently agile to be able to accommodate the changes," he said. "I could have asked the health boards earlier to prepare… because of their knowledge and expertise with large-scale vaccination campaigns."
Anti-vax pressure
With parliamentary elections on 17 March, some parties are keen to appeal to voters anxious about the rapid development of these vaccines.
Rival hashtags like #ikwildieprikniet (I don't want the jab) and #ikwildieprik (I want the jab) have been routinely trending on Twitter.
Neighbours in The Hague have received calling cards stamped with QR codes through their letterboxes, with a link to anti-vaccination propaganda.
Activist groups like "Virus Truth" have staged regular protests outside parliament.
The leader of the populist Forum for Democracy Party, Thierry Baudet, is among the most staunch and influential sceptics.
He continues to claim in tweets that Covid is hardly worse than the flu. But Covid is five to 25 times more deadly than a seasonal flu infection, despite the ongoing myths.
A recent Ipsos survey of 1,000 people in the Netherlands found initial reluctance to receive the vaccine subsiding, with approximately 75% now willing to be immunised.
Read more on the Dutch coronavirus crisis:
'Time will tell'
The Netherlands brought in a relatively relaxed, so-called "intelligent" lockdown during the first Covid wave.
But it is now facing record high infection rates and has been forced to introduce stricter measures, some of which it had initially ruled out. Face masks only became mandatory inside public places last month.
"Judge us in six months time" was among the responses to my report last April that the Dutch were gambling with a high-risk strategy.
As the vaccines roll out, once again the request is: don't judge us yet.
The first Dutch person to be inoculated will be Sanna Elkadiri, a 39-year-old care home nurse.
Seventeen of the 124 residents in her institution reportedly died within a month.
Ms Elkadiri will receive the jab in Veghel, one of three locations where vaccination will start on Wednesday.
The Dutch health ministry has made an initial 30,000 vaccines available for a select group of healthcare workers.
When asked about the delay, the ministry told the BBC it had been busy upgrading IT systems and training call-centre staff on the scripts to use with people booking their vaccinations.