By Chris Bockman
Bruniquel, South-West France
Bruniquel is one of France's most beautiful villages and about an hour north of Toulouse. Don't take my word for it – there is a special rare sign at the entrance that says so. Fewer than 160 villages in France have earned the right to put that sign up.
Just 700 people live here all year round and until the pandemic it attracted 90,000 visitors a year, lured by its well-restored medieval homes, its castle and the Aveyron river, which cuts through the gorge below.
Now, gone are the tourists and the streets are quiet, as the village, like the rest of France, endures a second Covid lockdown.
The only school in the village has just been closed because a member of staff has come down with the virus. Several villagers have contracted Covid during a second wave that has ravaged France and left more people in hospital than the first.
This particular area, or département, of Tarn and Garonne emerged relatively unscathed during the spring, with six deaths. But in recent weeks the toll has climbed to two to three deaths a day.
"For the residents everything has changed. In this village there are a lot of activities, cultural events and it all came to a sudden halt," says Christiane Soulie, elected mayor just before the first lockdown was imposed in late March.
Across France, the latest lockdown means people can only leave their homes to buy essential goods, seek medical help, exercise for an hour a day, or go to work if they cannot work from home. All non-essential shops, restaurants and bars are shut, but schools and creches remain open.
'They don't dare buy bread'
The mayor's days in Bruniquel are largely taken up with handling the crisis. A list of 27 vulnerable inhabitants, most of them elderly, has been drawn up for the village council to contact several times a week to ensure they are OK.
"We open the village hall as much as possible to assist people with paperwork and we kept our post office open from the first lockdown, so I think we have a mission," she says.
An elderly woman rings up on the edge of tears, terrified to go out to get her medication.
"They can go outside but they don't dare even buy some bread or a newspaper," says one of the volunteers, nurse Rosalind Armand.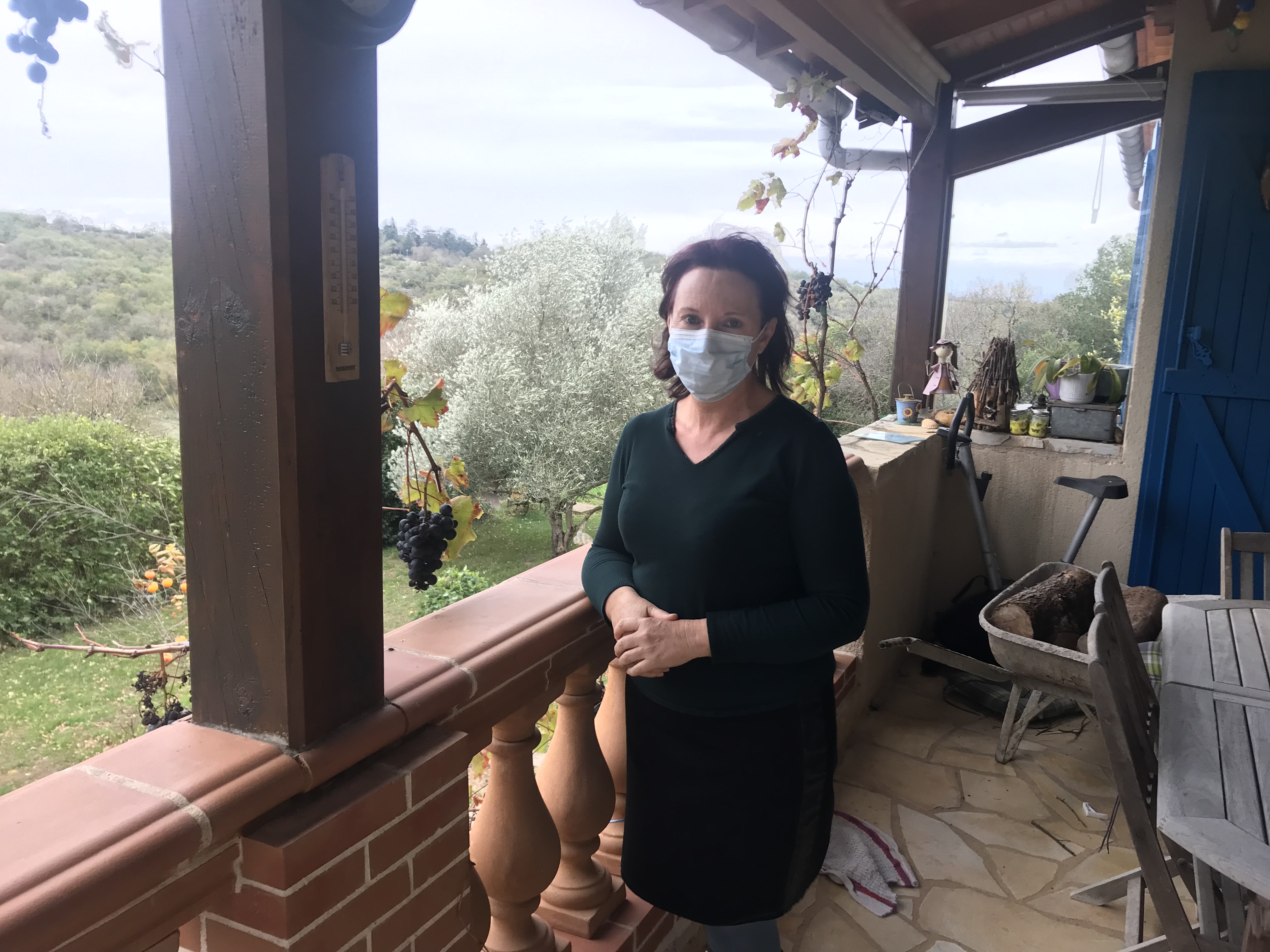 BBC
The less they venture out the more scared they become. If we call them regularly they can become a little calmer
Not everyone feels so cut off.
Bernard Belloc, a former French diplomat in China, lives most of the year in Paris but chose to spend the lockdown in Bruniquel.
Here he can work from home, or "télétravail", as they say in French, talking to French businesses via his computer and trying to drum up work in China.
"We have a good internet connection; the technology works and we have a garden. So it's lot more comfortable and more spacious than what we have in Paris."
Restaurants and shops struggle
For businesses that live off tourism, though, it is tough.
Véronique Linas has a restaurant Chez Pigassou and also sells local high-end food produce. She opened here three years ago and was making a reasonable income until the virus struck.
When restrictions were lifted over the summer, business picked up rapidly, but now she is despondent. The French state is encouraging businesses like hers to try click-and-collect takeaway services, but in a village like hers she thinks that makes little sense.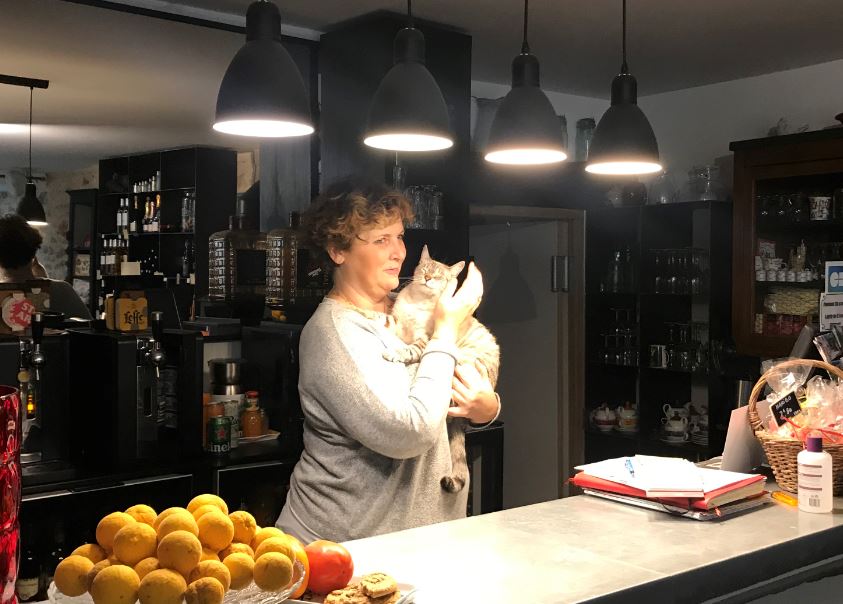 BBC
I hope people here will look at my website but it's not the same thing as in a big town where people are used to doing that
"Very few here are online all the time or on social networks. It's not the same as in a big town where people are used to doing that."
Bruniquel has just one grocery shop, run for the past six years by Patricia and Philippe Giorlando.
Most of their revenue comes from tourists and local custom is not enough.
"Despite the lockdown you are allowed to drive to a supermarket to do your shopping for essential goods, and too many people have done just that because it's cheaper," says Patricia.
No sport allowed
Amateur sports activities have been shut down so that means no work for Philippe Baudrand, who teaches martial arts and Tai Chi in a renovated studio next to his home.
"Fortunately I can claim unemployment benefit, but my sport isn't just physical its beneficial for mental health too," he says. "That would be good for many in the community right now."
Delphine Chriqui, who runs a horse riding school on scrubland above the village, has had to close too.
She had to go about cutting the cost of feeding the horses, but was impressed by the support she received from the village community.
When she wrote to the local newspaper to see if anyone had grazing land spare for her horses to run wild, several people volunteered.
"We are lucky. A lot of people have provided land for our horses so they can eat," she says.
As she gazes at her ponies munching on hay, she worries that by the time the riders return, the lockdown will have left them complacent and lazy.
Chris Bockman is the author of Are you the foie gras correspondent? Another slow news day in south west France.