It is 16 years since BBC correspondent Frank Gardner and his cameraman were ambushed by al-Qaeda in Saudi Arabia. Gardner was shot six times and paralysed, his cameraman killed. Now, he has gone behind those headlines to expose the things about disability we never talk about.
"I want people to see the iceberg beneath the surface," Gardner says of his new documentary, Being Frank.
"People look at somebody in a wheelchair, like me, and they probably think 'poor guy, I wonder if he needs a bit of help?' What they don't see is all the stuff that we have to deal with beneath the surface."
Gardner, 59, a fluent Arabic speaker, spent years living and working in the Middle East. He was a student in Cairo before working as a banker in Bahrain. He turned to journalism in his 30s and is now the BBC's security correspondent.
In 2004 Gardner and his cameraman Simon Cumbers became the headline.
They were filming in a residential district in Saudi Arabia's capital, Riyadh, following gun battles between the police and al-Qaeda – the extremist Islamist group behind the 9/11 attacks in America. In footage of the assault, released for the first time in the documentary, Gardner is seen chatting to one of their minders while Cumbers films the quiet neighbourhood with children looking on. Off camera, a man with a pistol gets out of a car.
"We got ambushed – al-Qaeda. They shot us at point blank range."
The first bullet went through Gardner's shoulder, the second in his leg.
"Then they stood over me and put the rest into me".
There is a grim photograph of Gardner on the floor, his white clothes blood-stained, propping himself up.
A crowd started to gather around him but no one came to his aid.
Betrayal is "exactly what it felt like", says Gardner, who had spent half his life understanding the customs and cultures of the Middle East,
"As I lay on the Tarmac with all these bullets inside me, bleeding internally, I remember thinking 'this is so unfair'. I have gone to such lengths to understand and empathise with the culture and the religion of this region and the reward is six bullets in the belly?"
Against the odds Gardner survived, but his injuries were life-changing. He was paralysed from the knees down. Although he can now stand with callipers and a frame it's "more practical to stick with the wheelchair".
"My insides were shot to pieces," he says. Large sections of his "squibbly bits" (intestines) were removed, leaving him with a colostomy bag.
He did not become bitter at the unfairness he initially felt, but this documentary enabled him to scrutinise the facts again. The big moments, like the attack itself, he has revisited many times. But it is the smaller ones like returning to the intensive care unit in London where he was flown for treatment, which visibly moved him.
"It was pretty grim going back. Hearing that depressing sound of those monitoring machines. It just brought it all back.
"I had so much wrong with me and the frustration of being just imprisoned in that bed. I could hear children playing in the corridor and they weren't mine, and just the thought that I would never again run into the sea with my kids or climb a tree with them. The reality is when you come out of hospital you find other ways of doing it, but at the time it was very, very depressing."
The documentary gave him a chance to reflect on those moments and show the long-lasting, often over-looked, impact such a trauma can cause.
For Gardner "top of the tree" is managing the nerve pain in his legs which hasn't ceased since the attack. Sometimes he has "mallet days" where it feels like someone is "taking a huge mallet and whacking the side of my knee – it lasts from five to 10 seconds, but it's so painful I can hardly speak".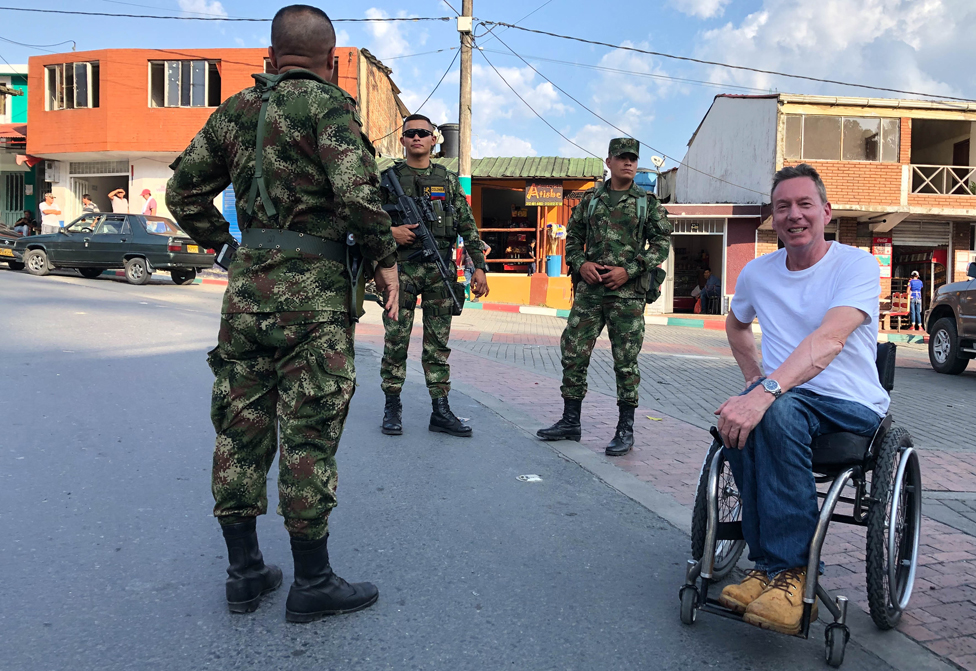 Frank Gardner
Write it down in your laptop and password protect it – you may never use it but get it out there
The documentary is broadcast as the UK marks 25 years of the Disability Discrimination Act, a landmark law which outlawed discrimination against disabled people. It is remorseless in its portrayal of Gardner's life and shows him changing his suprapubic catheter – a tube that drains urine from the bladder via a cut in his stomach. It is a rigmarole he must endure every eight weeks.
Recently it became stuck and he had to go to A&E.
"They had to give me morphine and the doctor was literally having to brace himself against the table to pull this thing out," he says. "I want people to see that despite all of this… you're still able to lead a pretty normal life."
Gardner returned to work 10 months after the attack with his first foreign trip a month later. While he is rightly vocal about the discrimination he faces, such as wheelchairs being misplaced by staff at airports, he's not known for being emotional. So has he dealt with the trauma psychologically?
"I'm not complacent about it at all, because I know that PTSD can rise up and get you years late. I've not bottled anything up."
He has worked with renowned psychiatrist Prof Neil Greenberg to explore the emotional impact of the trauma.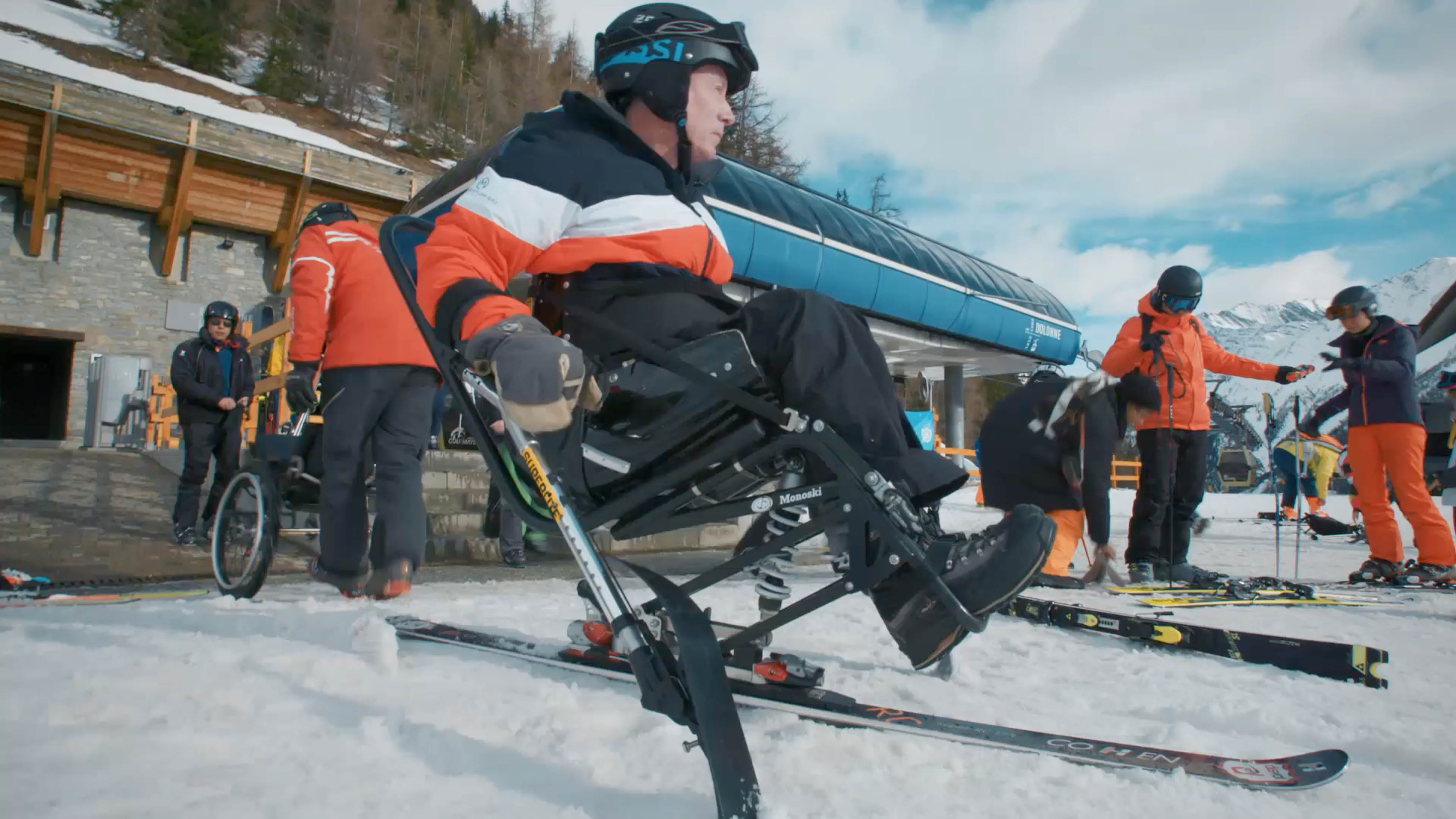 Frank Gardener
I am not complacent – I know PTSD can rise up and get you years later
"I was in floods of tears as I let everything out," Gardner says. "My advice to anybody who has had a traumatic incident – write it down in your laptop and password protect it. You may never use it, but get it all out there. It's cathartic."
The talking was also key to Gardner accepting and understanding his impairments.
Prof Greenberg told him: "Don't waste any emotional energy on the things that you used to be able to do. Think about all the things you can."
It opened Gardner's mind and he re-learned how to ski and scuba dive. He still has had to deal with many frustrations, but he tries to make peace with them.
"My disability has hugely affected my ability to get on air [at work] in interesting places," he says, often because those places can be unpredictable.
But he continues to give most things a go even if they seem outrageous to others.
In a hair-raising moment in the documentary Gardner attempts to go down a steep ravine in Colombia on horseback.
He eventually concludes it is too precarious and reveals a fall would break both his legs as the bones have become weakened. But he sees this trial and error as just another part of being disabled.
"Don't let this stuff be a hindrance, don't be embarrassed about it," he says. "It shouldn't stop you doing what you want to do. "
Returning to his trauma 16 years on hasn't altered Gardner's mindset on disability, but it has given him chance to pass his knowledge and expertise on to others.
"There's so much to live for. I love doing nature photography, my kids are such wonderful girls and I'm very lucky to have a lovely girlfriend.
"It's been about encouraging other people. To empower them to do what they want to do."
UK viewers can watch Being Frank: The Frank Gardner Story on Thursday 5 November at 21: 00 GMT on BBC Two and on BBC iPlayer.
For more disability news, follow BBC Ouch on Twitter and Facebook and subscribe to the weekly podcast on BBC Sounds.