Orchestra conductor Gustavo Dudamel wants to see a new sense of tolerance in the world and believes music can lead the way.
"Music has an essential role to play in the healing of the spirit of humankind, which is so shaken at this time of pandemic and other circumstances that divide us," he tells the BBC.
The Venezuelan's latest project is a virtual reality film, Symphony, which aims to take participants to the beating heart of music and sound through technology, remarkable visuals and the genius of Beethoven, Mahler and Bernstein. And it has just premiered in Madrid.
'Language without words'
Dudamel wants the film to help inspire young people to plunge into classical music, and for the symphony eventually to be the sound of a world of different ideas harmonising together.
"Music is a language without words: it comes to each of us in a unique way and yet it also unites us even though we appreciate it in different ways. For me that is a beautiful symbol for these times – we can embrace each other through music," says the 39-year-old music director of the Los Angeles Philharmonic.
Introduced to music through El Sistema, a network of youth orchestras in Venezuela with a strong community dimension, he has leveraged his own meteoric career to develop projects aimed at inspiring and uniting children and youth in dozens of countries around the world.
The Gustavo Dudamel Foundation, which he co-chairs with his wife, Spanish actress María Valverde, has worked with marginalised children from as far apart as Sweden and Venezuela, as well as creating social "bridges" through encounters between young musicians.
Some live thousands of miles apart, others come from different worlds next door to each other, as they do in a US project combining students from the elite Princeton University with young people from nearby Trenton, New Jersey, a town with one of the lowest graduation rates in the US.
The underlying ideas are unapologetically idealistic. Mr Dudamel and Ms Valverde argue passionately that access to art and beauty is an inalienable human right for all, and that differences can help bring people together.
"The most beautiful thing would be to join through our differences, and not see them as an element of division," says Dudamel. "I think that fact that each youth comes from different socioeconomic, cultural and religious context and then they play together to create one discourse – that is music."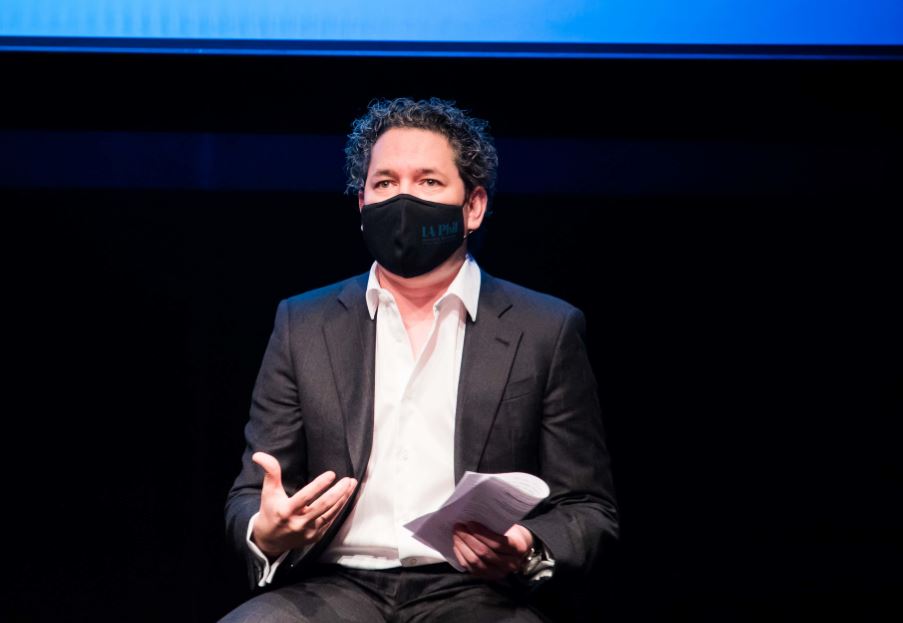 Máximo Garcia/La Caixa Foundation
The process of interaction with art to create a symphony is the best metaphor of how society could work, because an orchestra is a society
The conductor, who has not worked in his native Venezuela since he criticised the use of violence by President Nicolás Maduro's government in 2017, applies the same thinking to his own country, which is mired in political and economic crisis.
"Without difference, there can be no harmony. If we only see our differences as distinctions, then we just have cacophony, and that is what we see in Venezuela today: chaos. Ideologies and egos must be set aside and dialogue is the only solution."
Touring for a decade
Symphony is a four-year project organised by Spain's La Caixa Foundation involving 250 people, including 100 musicians from 42 countries.
The personal rhythms of three young musicians from the Dudamel Foundation who come from different countries are explored in a wordless short film before Beethoven's Fifth Symphony crashes into the viewer's senses in a 12-minute VR experience.
After its screenings in Madrid over the Christmas holiday period, Symphony will travel to hundreds of locations in Spain and Portugal over the next 10 years.
Mr Dudamel takes on the role of virtual guide on a tour that takes us from the creation of instruments and how they vibrate and channel sound to the synapses of the brain where sound is processed as the orchestra plays around us.
"It's a magical journey through music and how it is a universal language that anyone can connect with," the conductor says.
"For me the idea was always to bring young people to classical music, and now we have these technical resources. But I didn't just want something the new generations can enjoy, but rather so that they feel that this music is something that belongs to them."
More on music under lockdown