By Guy Hedgecoe
BBC News, Madrid
The Isabel Zendal hospital in Madrid only opened in December, but already it's feeling the strain. Spain's third wave of Covid-19 broke after the Christmas holiday, making January the worst month the country has had in terms of infections.
"We had a terrible January," said Javier Marco, medical director of the hospital. It was built in just three months specifically to manage the Covid crisis. "It's been stressful."
The country's infection rate has stabilised in recent days, at just below 900 cases per 100,000 inhabitants, but the pressure is still on the healthcare system.
Vaccine impact 'won't come till end of 2021'
The roll-out of vaccines is a boon for a country whose death toll from Covid-19 is now approaching 60,000. However, the recent problems with deliveries and distribution of the Pfizer and Moderna vaccines have directly hampered the vaccination campaign. The regions of Catalonia and Madrid both announced alterations to their plans at the end of January.
Catalonia's secretary general for health, Marc Ramentol, said the region had been "very affected" by the drop in supply. In Madrid, second, follow-up vaccines have been prioritised over first jabs, which have been temporarily suspended.
"The impact of the vaccine won't be visible until a good percentage of the population has been vaccinated," says Javier Marco. "That was not going to happen until the end of the summer. With this delay we won't be able to see that until the end of the year, being optimistic."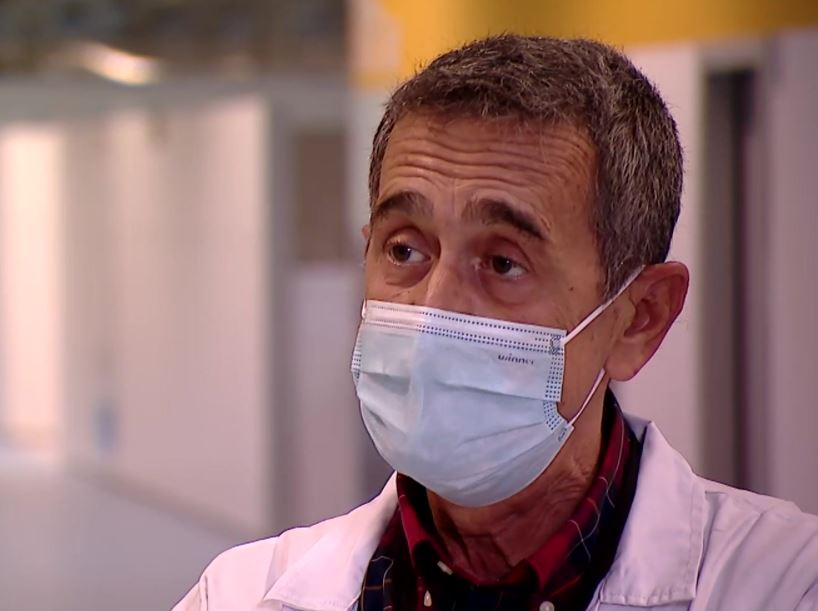 BBC
This problem with Pfizer is going to have a very clear impact on the control of the pandemic
Spain takes regional approach
Since coming out of one of the world's tightest national lockdowns last year, Spain has taken a more localised approach to restrictions. Local governments have been imposing and lifting measures in towns, cities, or whole regions, according to infection rates.
In many areas bars, restaurants and cultural spaces have severe restrictions. A curfew is also in place nationwide, its timing varying according to each region.
Many of Spain's local politicians have also been in the headlines recently, for a very different reason: a number of public figures have been accused of using their position in order to get vaccinated early.
Last month the Socialist Party (PSOE) said it was investigating four of its mayors of small towns on the Mediterranean coast and in Andalusia. Several other mayors have faced similar accusations, with some resigning. Manuel Villegas, the conservative head of healthcare in the Murcia region, also stepped down after it emerged he had been vaccinated early, as did the head of the armed forces, General Miguel Ángel Villaroya.
"Everybody that I'm seeing is just really tired of the situation, we are just sick of it and we don't see the end," said Catalina Lizasoain, an architecture student.
"And it's really upsetting that you have to act really responsibly and then the people that are in charge are not acting responsibly at all."