In our series of letters from African journalists, novelist and journalist Adaobi Tricia Nwaubani looks at a young man's passion for the past.
There are many events in Nigeria's history which 23-year-old Teslim Omipidan wishes every Nigerian to know.
For example, in October 1961, a young American woman, Margery Michelmore, was attending Peace Corps training at the University of Ibadan in south-western Nigeria.
A postcard she wrote to a friend back home described the "squalor and absolutely primitive living conditions" of her new environment.
A Nigerian saw the postcard before it was mailed; distributed photocopies around the campus – sparking riots from the students who found the private message outrageous, and an international incident that eventually drew the involvement of then US President John F Kennedy.
Nearly 15 years later, in February 1976, the Lagos Lawn Tennis Club in Nigeria's former capital city was packed with middle-class Nigerians and expatriates, who had gathered to watch two US professionals, Wimbledon champion Arthur Ashe and Jeff Borowiak, play.
The Ashe v Borowiak match was black Africa's first professional tennis tournament, part of the World Championship Tennis Pro Circuit series. The winner would take home $60,000 – the equivalent today of about $517,000 (£385,000).
But Nigeria's beloved military ruler, Murtala Muhammed, had been assassinated in a failed coup three days earlier, on 13 February. Shortly after the game began, five men strolled on to the court – four of them in military uniform.
"What are you doing?" yelled one of the soldiers. "We are mourning, you are making money. Are you all mad? Please, go."
While a soldier shoved his weapon into Ashe's back and led him off the court with his hands raised in the air, the spectators scrambled from their seats and fled.
You may also be interested in
These are just two of about 2,000 stories that Mr Omipidan has so far catalogued on his Old Naija blog, which he describes as "the home of Nigerian history and culture".
"My goal is to reach as many Nigerians as possible, at home and abroad, to educate them," said Mr Omipidan, who has just completed a degree in mass communications at the Adekunle Ajasin University in south-western Ondo State.
From scrapbook to blog
His love for writing and information dates back to when he was five years old, accompanying his father, a printer in Ibadan, to work during school holidays – spending endless hours reading from the variety of books he produced.
Around the age of 10, Mr Omipidan started a makeshift book of his own. He cut out history-related photographs from newspapers and glued them to a notebook, then researched and wrote stories about each image.
By the time he was 17, he was keen to share with the world the information he amassed.
"That's how the idea of a blog started," he said. "I started it in 2014."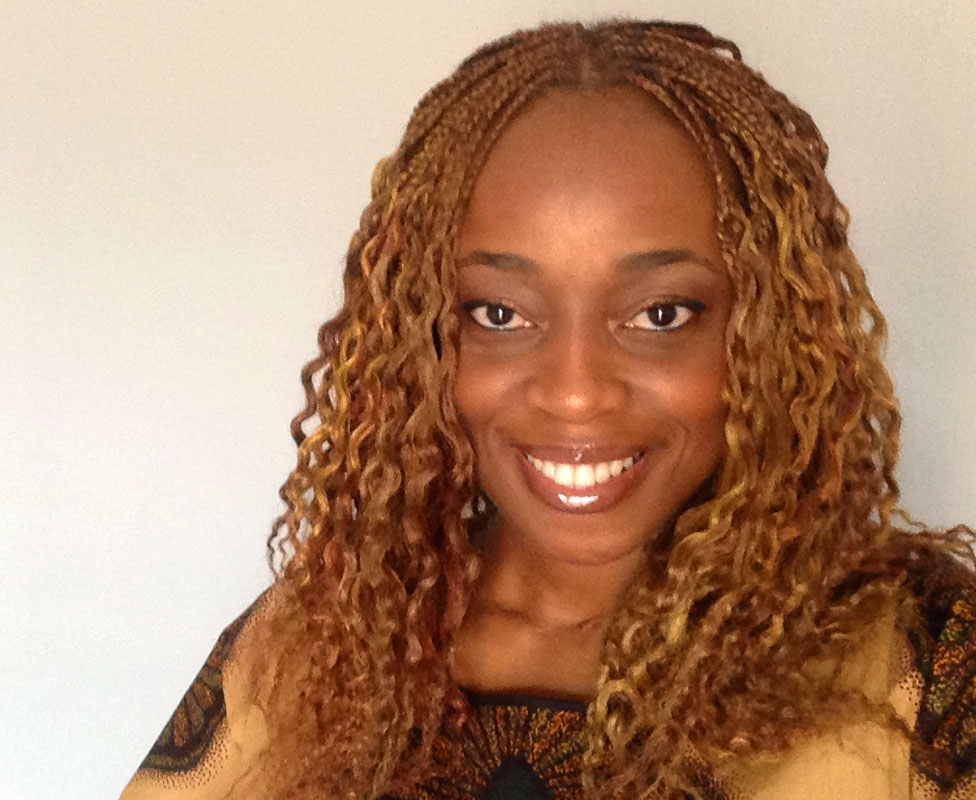 A T Nwaubani
A few years ago, there was an outcry in Nigeria when history was removed as a subject in secondary schools, with students expected to learn any related topic under civic studies"
Mr Omipidan scours libraries, newspaper archives, history books and the internet for content.
He is particularly inspired by the work of Nigerian historians Amanda Kirby Okoye, Max Siollun, and Toyin Falola.
The process of producing content for Old Naija has sometimes been life changing for Mr Omipidan.
He had heard about the Nigerian civil war of 1967 to 1970 – sparked by an attempt by the Igbo ethnic group to secede and form a new nation called Biafra – but he had not realised the scale of bloodshed and devastation until he was researching the story in 2015.
He was particularly shocked at the role played by ethnic hatred.
"I was thinking: so, my country had this kind of past and we still go about today playing with the things that can bring this back?" he said.
"Since then, I've been conscious of what I say online when it comes to any ethnic-related argument or discussion because a small thing can start something bigger.
"The story changed the way I see other ethnicities, the way I perceive them, the way I relate with them."
More on Biafra and its fallout:
Mr Omipidan believes that more Nigerians would adopt this cautious attitude if they also knew more details of the war.
A few years ago, there was an outcry in Nigeria when history was removed as a subject in secondary schools, with students expected to learn any related topic under civic studies.
The government eventually bowed to pressure from intellectuals and returned history as a standalone subject. Mr Omipidan is glad to note that the Biafran war is part of the new history curriculum, unlike when he attended secondary school a few years ago.
"As the saying goes, those who don't know their history are bound to repeat it," he said.
A hobby that pays
Six years after he founded Old Naija as a teenager, the blog, which he runs from his home in Ibadan, now employs two writers and has 300,000 unique visitors a month.
The most popular story he has published so far is the "Ghana Must Go" saga of 1983, which describes how the Nigerian government deported more than two million African migrants, mostly Ghanaians, who had sought greener pastures in the country during the oil boom of the 1970s. That post has been viewed more than a million times.
More on 'Ghana Must Go':
The second most popular story, with about 500,000 views, is the Clifford Constitution of 1922, which paved the way for Nigeria's first political parties and allowed Nigerians to vote for the first time. (Only adult males, who earned an annual income of at least £100 at the time, were eligible).
"People used to tell me that nobody reads history," Mr Omipidan said, "but I'm now feeling convinced that people do."
His blog also fetches him a tidy income, which comes in handy as he waits for Nigerian lecturers to call off their months' long strike, so that he can at last collect his certificate and consider himself no longer a student after completing his final exams more than a year ago in 2019.
"I see the income as a bonus coming from my hobby," he said. "I have always loved history since I was a boy. It is the genuine love that has kept me going for years without stopping."
He hopes to someday launch a podcast or radio station, through which he can share his passion with more people.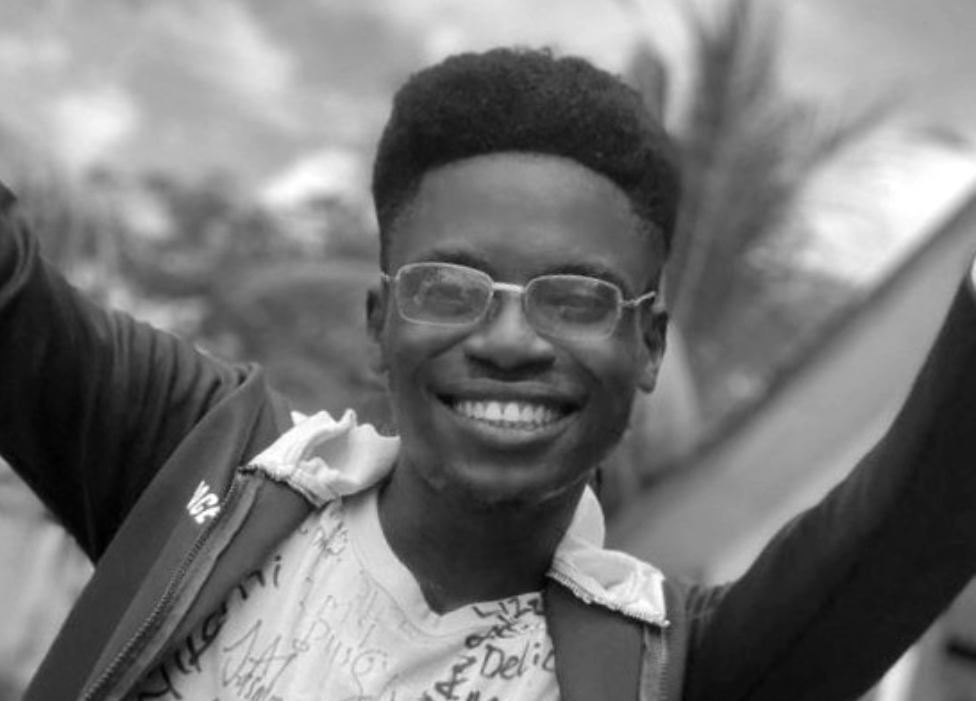 Teslim Omipidan
I tend to keep my own opinions out of history. It is better to leave your opinions out and allow people judge for themselves."
Back in 1961, acclaimed American writer John Updike, absolved Margery Michelmore of blame in the postcard incident.
"Miss Machelmore did not sin in saying in a personal missive that she was startled, coming fresh from Foxboro, Massachusetts, to find the citizens of Ibadan cooking in the streets," he wrote in the 28 October issue of that year's The New Yorker.
"And the fellow student who picked up the dropped card and, instead of mailing it, handed it to the local mimeographer seems guilty of a failure of gallantry. One may or may not cook in the streets, but one does not read other people's mail and then demonstrate because it is insufficiently flattering."
Mr Omipidan, on the other hand, abstains from providing commentary on the stories he posts.
"I tend to keep my own opinions out of history," he said.
"It is better to leave your opinions out and allow people judge for themselves."
More Letters from Africa:
Follow us on Twitter @BBCAfrica, on Facebook at BBC Africa or on Instagram at bbcafrica